Did you know a Web Object inserted into Articulate Presenter actually sits above the published presentation player?  Because Flash doesn't have the ability to embed html content, Articulate Presenter will use iframes in combination with CSS to overlay the Web Object seamlessly, with the Flash player window. Layering html documents is a creative solution to this Flash limitation. The image below gives an example of how the published documents are layered.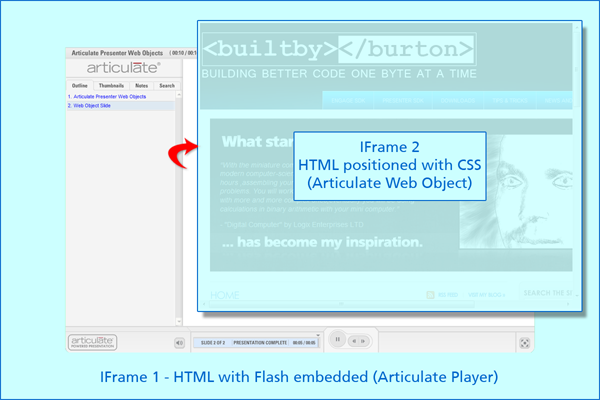 So why reveal content behind the Web Object?
When attempting to navigate beyond a Quizmaker quiz slide a prompt is issued warning users they must attempt the quiz to advance. This prompt is part of the Flash player embedded into IFrame 1, therefore displayed behind the Web Object (IFrame 2).  Because users are unaware there's a prompt behind IFrame 2, or more importantly, they are unable to select the OK button on the prompt,  the presentation becomes locked. This will happen in an Articulate Presenter presentation when:
– a Quizmaker quiz is placed anywhere after the Web Object slide
– the quiz properties from Presenter are set to use the following setting:
User may view slides after quiz: After attempting quiz
One workaround to this issue, would be to allow users to view slides after the quiz at any time. If this isn't an option for you, please read on.
Unload/Reload the Web Object using my webOjectLockFix!
I developed a small flash movie containing some actionscript code that will unload the Web Object to reveal the quiz warning  – "You must attempt the quiz at slide x to advance." After selecting the OK button from the warning, the Web Object is reloaded.
To implement this fix in your Articulate Presenter projects, please follow the instructions below.
1. Download the webOjectLockFix2.0.zip file.
2. Extract the webOjectLockFix2.0.swf from the zip file.
3. Select the slide in PowerPoint that contains the Web Object.
4. Choose Insert –> Flash Movie from Articulate Presenter.
5. Browse for and select the webOjectLockFix2.0.swf movie and apply the following settings:
– Display in Slide
– Advance to Next Slide: When user clicks next
– Synchronization: Movie plays independently of slide
6. Select the OK button to complete the insert.
7. Select the Flash Movie inserted above and move it off of the slide (this is necessary or the Flash control will show when published)
8. Publish and view the presentation.
Note: The above workaround in not supported by Articulate, and is provided as is. However, I have tested this extensively and found this to work without any issues. There is nothing in the actionscipt code that would interfere with the Articulate content.
I hope this was helpful.
Additional Information and Links
Download: webOjectLockFix.zip webOjectLockFix2.0.zip Updated! 9-26-2010
Articulate Help Document: Articulate Presenter Web Web Objects